Read what people are saying
about Precision Garage Door in:
Arcadia Area, CA
Precision Garage Door of The Greater LA Area
has received
23
reviews, averaging
4.96
Stars:
Install Garage Doors
Duarte, CA
Comments:
We are a previous customer of yours. Thus, when we decided it was time to replace-- your office was called. The Sales Team was efficient and thorough while helping my wife decide on our purchases. Then, Javier and Kevin came yesterday and completed an outstanding installation of new opener and beautiful door!! Javier was excellent as helping us understand our new system and all of its features. We would recommend them to anyone considering your installation services. Thank you, Grant and Karen Cuellar 5 Stars for all of your team!!
Installers
Broken Garage Door Spring Repair
Arcadia, CA
Comments:
William F., from Precision Door, was very professional from the moment I met him all the way through completion of my needed spring repair—attire, manners, etc.. William showed up within the estimated time window given to me when I made the appointment, which I was able to do the same day. My garage door setup isn't the norm due to how my house was constructed. Nevertheless, William was able to complete the repair without any issues. William was knowledgeable with respect to what my garage door needed. William also made adjustments that improved the way my garage door functioned moving forward. I'm very happy with how the repair progressed and how the entire process was completed. I'll definitely recommend Precision Door to my friends. Thank you again William!
Garage Door Opener Install
Sierra Madre, CA
Comments:
Armando just left my house. He was very kind and courteous and answered all my questions. He explained everything to me and did the job in a timely manner. He was patient and had a lot of knowledge in the product. He is a credit to Precision!!
Technicians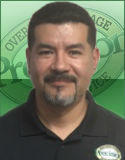 Garage Door Repair
Sierra Madre, CA
Comments:
This was an excellent and most fair visit from a great representative from Precision Door Service.
Broken Garage Door Spring Repair
Sierra Madre, CA
Comments:
Technician, Stanley S., did a wonderful job of fixing the springs on our wooden garage door. It was a tough job as the door was old and professional know how and perseverance were needed to get it right. Stanley keep us posted about his arrival time and called 20 minutes before his arrival, which was right on time. He had everything he needed in his truck and fixed the garage door on the very day we called for service. Precision was very professional thoughout the process emailing a service confirmation, photos of the technicians so we would know for sure who was at our door, and an invoice, and warrantee. We definitely recommend Stanley S. and Precision Overhead Garage Door Service and are telling our friends of our experience.
Broken Garage Door Spring Repair
Arcadia, CA
Comments:
Excellent service, would call them again in a second!
Garage Door Opener Install
Arcadia, CA
Comments:
These guys are the BEST , no handyman stuff , these guys are professionals . THANK YOU PRECISION DOOR !
Garage Door Opener Repair
Sierra Madre, CA
Comments:
Tony arrived on time took a look at things and made a thought out reccomendation. Work was done timely.
Broken Garage Door Spring Repair
Monrovia, CA
Comments:
I was impressed with the service and knowledge of your technician, Jaysen W. He arrived on time, and worked efficiently and professionally. Jaysen patiently answered all my questions and explained his company's policy/warranty. I am a repeat customer, and I will continue to do business with this company because of their expertise and fast service. Thank you.
Garage Door Repair
Temple City, CA
Comments:
Originally, I was very upset that the call center booked me yesterday for a same day service but the tech had to reschedule for today. The tech ( I think it was Tony) tried to reach me; he reached me an hour and a half into the waited time to reschedule. I seriously thought about cancelling and sending my work to someone else. I think Tony got an ear full from me yesterday but he was a good sport of hearing it on behalf of the company. Realizing my unhappiness, he moved it from an afternoon appointment to a morning one. Tony,showed up and gave me great service. I needed Precision because I I had tried to reprogram one of my remotes on my own and erased everything. Tony was very knowledgeable and showed me how to reprogram everything: the cars, remotes and box. Many places, including Sears, don't do cars: Precision does. Tony was so good that I ended up fixing rollers in addition to re-programming my opener. By the time he left, I was contemplating buying a new door and motor when they go out. Usually, when a garage fails, you go out and grab the first motor and repairman. That's exactly what I did the last two times. Tony spent a lot of time during the service to show me why buying a higher quality motor and door from Precision would save me lots of money from the inferior readily available products. I don't know if the other techs in my area are as good as Tony. Tony made a very angry customer into a happy, satisfied customer. At first, I was apprehensive that Precision looked like a big chain company on the website. Because the reviews seemed good, I took a chance. Now, I had a chance to get service from Precision and realize being big had its advantages. I got great client service of what you would expect from a good mom and pop repair place with the advantages of a larger infrastructure that can offer a larger range of services and products.
Garage Door Opener Repair
Arcadia, CA
Comments:
Jaysen B Whittaker Was the technician who came to our home this evening. He is very knowledgeable, courteous and professional. He did a great gob.
Garage Door Opener Install
Temple City, CA
Comments:
The guys were running behind schedule, and they did give me a call, but were about an hour outside the four hour window time they give you, so the scheduling could be a little better. But it was worth the wait. David and his partner ( sorry didn't get his name) installed a new garage door with a new liftmaster opener. They did a very professional install, and explained everything as they went along. They took their time, even on a Friday afternoon and didn't rush or take any shortcuts to finish the job. I think they were at my house around five hours. I'm very satisfied with the company, and the job the installers did. The door looks beautiful. I would use this company again and would recomend them highly. Great job guys....
Garage Door Repair
Arcadia, CA
Comments:
For sure I give Precision a 5 stars rating. The service I received was nothing short of awesome from beginning to end. They replied to the service call in no time and scheduled me on the same day. They sent me confirmation with the name of the technician on his way and a link to his profile. I knew I was waiting for Jaysen. He called to confirm his arrival. He arrived on time with a big smile which exactly what I needed to see after a long stressful day. He was very professional and very knowledgeable. He explained everything, fixed my garage door, inspected the whole garage door and gave me great tips. That was the best customer service I received in a very long time.. Talk about a great example to emulate. I know where to go if I am ever in need for garage door service. I would recommend Precision and Jaysen to anyone and everyone.
Broken Garage Door Spring Repair
Temple City, CA
Comments:
Joey A. Was the technician that help. He was great with the recommendation to help in my decision making. He was able to fix my problem in a professional and timely manner. Thanks Joey!!
Broken Garage Door Spring Repair
Sierra Madre, CA
Comments:
Thanks for the prompt and excellent service. The service technician was Chris (not listed on this page below). He addressed the problem, gave me a ballpark figure (at my request) and proceeded to do the repairs. He also made a few suggestions regarding the condition of the doors. He was courteous and not aggressive about doing work that did not need to be done. I appreciate that. I would recommend your services again and in fact can include your contact information on our company referral list if you wish. I work with 250 Realtors that are always looking for good companies and people to get work done for clients. Thanks again.
Broken Garage Door Spring Repair
Arcadia, CA
Comments:
Jesus came to our home to repair our garage dooe. Broken springs. He was very professional, knowledgeable. informative and polite. He install the springs, lubed installed new rollers and a few other jobs. It was nice to have a professional doing an efficient job.
Broken Garage Door Spring Repair
Duarte, CA
Comments:
I AM SATISFIED WITH THE SERVICE PROVIDED I AM TRYING TO CLICK ON 5 STAR RATING BUT UNABLE TO DO SO
Garage Door Opener Repair
Arcadia, CA
Comments:
Good job!! Truly great service!! Such an excellent tech!
Broken Garage Door Spring Repair
Bradbury, CA
Comments:
This business is great! The work done was excellent and very professional!!
Garage Door Repair
Monrovia, CA
Comments:
â??I cannot thank your company enough for your quick response and great service. Precision Door came highly recommended and I can see why!
Garage Door Repair
Arcadia, CA
Comments:
I am very happy with the service. San was fast, knowledgeable, and got the work done on the first trip. The help provided by the office was fantastic.
Broken Garage Door Spring Repair
Monrovia, CA
Comments:
Excellent service & advice. they were on time & courteous. We would highly recommend this company.
Install Garage Doors
Arcadia, CA
Comments:
We bought a garage door and were very happy with the sales person and also the technicians. They were prompt and courteous. We chose your company because it is nationwide and sounds like they stand behind their product.